INTERLINE CONSTRUCTIONS YOUR SPECIALIST SPLIT LEVEL HOME BUILDER
A block of land that is far from being flat can present challenges (in both the design and building processes) when crafting your new luxury home in Melbourne.  At Interline Constructions, you'll find your options and ideas for split level homes that can be taken into full consideration, regardless of whether the land is of a level consistency or not, because we listen to what you need, talk you through what's possible and permissible, and then give you the knowledge, skills and expertise to get the job done with exemplary service.
Interline have been awarded multiple awards as premier Split Level Home Builders over the past seven years, with accolades from both the MBAV and the HIA.
There may be several reasons for your choice to have your split level home constructed, and not all of the reasons will be within your control.
INTERLINE CONSTRUCTIONS HAVE SPLIT LEVEL HOME SOLUTIONS
You may want to have home design impact, by building at different levels, to maximise your view, facilitate more sunshine and breeze factors, have better access to solar power generation, or add unique design dimensions to your new Split Level Home.
The land development area you have chosen may be governed by Local Council specifications, or there may be a covenant on the estate, thus requiring you to have a Split Level Home build.
Your block of land may have various degrees of cross-fall. This may extend from left to right, front to back, or be completely all over the place. The span of your cross-fall could be anything from two metres to eleven metres in any direction.
TALK TO US TODAY ABOUT YOUR SPLIT LEVEL DESIGN

Building to the actual fall of the land can negate the need for excessive excavation, and save you on extenuated building costs.
You may have approached some of the major land developer builders already, and found that they will not adjust their designs to cater for your specific block – that may be sloping, or otherwise.
Luxury, custom home builders and designers, Interline Constructions will help you design, conceptualise, build, fit and finish your new Split Level Home in Melbourne to your specifications, with the finest in quality workmanship – AND at a price to suit your budget.
YOU'LL RELAX
Your beautiful new split level home will be expertly project managed from initial consultation right through to the final review. You will be communicated with from the outset and the whole way through, so you can be confident that your plans are being expertly implemented throughout the entire build.
The good news is that you can continue living your life whilst being confident that your dream home is being expertly designed, quoted, and built by Interline Constructions on your undulating or sloping block in Melbourne. By partnering with Interline for split level homes, you'll receive in turn:
Appropriate advice
An expert team of designers and builders
A cohesive and seamless communication system with your project manager
Complete satisfaction from a Premier Award-Winning Split Level Homes Company
YOU'LL GET RESULTS
The Interline team have significant experience in helping their customers achieve what they set out to in terms of the build of their new split-level home. How? We offer realistic suggestions, honest appraisals, a step-by-step guide on the Planning Permit process, and access to the right people in construction with only thorough experience and knowledge. Our team will take you through each construction stage in detail – concept, design, implementation, and building. The difference with Interline compared to larger construction companies is that we will be able to communicate with you at each and every stage.
And, when you finally open the door to your new, luxury split level home, and a brand new lifestyle….
YOU'LL SMILE
THE BENEFITS OF BUILDING SPLIT LEVEL HOMES WITH INTERLINE CONSTRUCTIONS
Uniqueness – no two split level homes are the same
You'll have a different view of your surrounds compared to everyone else
Your home will be custom-designed to rise and fall with your block of land
You'll enjoy the variety of outlooks, from different levels, that will give you scope to create a unique interior like no other home you've ever seen on display
You'll have the opportunity to partake in the designing of balconies or decking areas to accentuate your new Split Level Home
You'll be able to entertain your family and guests amongst high quality finishes
You'll have your say on whether your bedrooms are upstairs or downstairs, or a mixture of both, and
You'll feel proud that you've achieved your desire to build your new Split Level Home, and the lifestyle to go with it.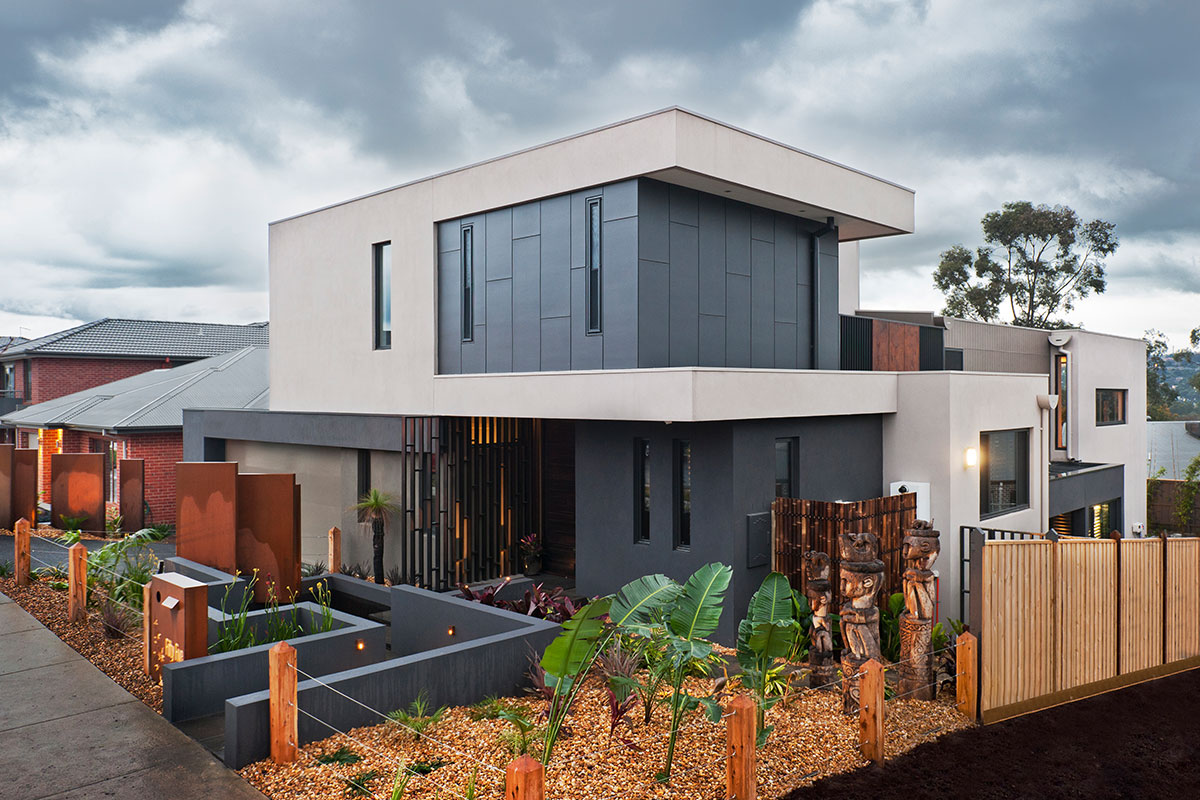 Case Study
Mandi and Sam wanted to build close to other family members, but there was limited land available in the area. They were left with three land choices, and each block sloped in several directions (not just one way or the other). They also wanted to custom design their luxury home. Whilst the angular and sloping block they chose presented many design challenges, it also allowed them the opportunity to create unique indoor/outdoor entertainment areas. Mandi also wanted a sunken lounge room, and a kitchen with a view, whilst Sam needed a home office that was away from any disturbance.
Having spoken to several generic, home building companies, Mandi and Sam realised that those companies would not deviate from their general designs to accommodate their chosen block. They also found that the 'big' builders wanted ridiculous and excessive fees to move something as simple as a window or a door.
Interline Constructions were recommended to Mandi and Sam, and they soon realised how much time they'd wasted by not talking to them sooner. Their block of land had been knocked as being 'too hard to build on' by everyone else, but Adam and his team helped them to find the right design concepts, the most interesting ideas – and all within a budget that they could afford.
Although a steep driveway was necessary, and several retaining walls had to be constructed, Mandi and Sam ended up with the perfect home, with an interior that could cater for running a business from home, entertaining family on the weekends, and in which they could simply relax in the home cinema, or the rose garden. One of the best things these keen gardeners found was – in designing their own home with Interline Constructions' expert assistance, they could also manipulate the layout of the back garden to incorporate a large vegie patch that took advantage of the right amounts of sunshine too.
We loved the location of the odd-shaped land we found, and we wanted to build something unique to our needs. It soon became apparent that finding the right builder (who had the credibility as a Split Level Building expert) was even more essential than we thought.

Interline made us feel totally at ease from the beginning. The ideas we had in our own heads soon became realistic plans. They explained why some things weren't possible and came up with alternatives that we'd never have thought of. We now have a gorgeous new home, Sam has his office, the windows all look out over views, and we can happily see ourselves living here for many years to come. And our teenage children have bedrooms far enough away from ours, but close to the rumpus room where they can spend time with their own friends.

The help we received from Interline was amazing. They certainly lived up to their reputation, and we couldn't have been happier with our new luxury home. Once we moved in it was like we truly belonged. (Mandi)